DON'T TURN A BLIND EYE ON YOUR VISION PROBLEMS.
LASIK eye surgery helps bring your vision back to 20/20, so you don't have to wear glasses or contacts. Let the experienced eye surgeons at Koby Karp Doctors Eye Institute perform the procedure on you.
At Koby Karp Doctors Eye Institute our patients enjoy a very customized, safety oriented approach to LASIK preoperative evaluations and a high rate of satisfaction with their postoperative results.
LASIK is a form of laser vision correction to reduce refractive errors and reduce or eliminate the need for glasses. The eye cornea is reshaped by a precise amount using the Excimer laser.
An Excimer laser is a concentrated beam of cool light that can be precisely focused to remove a precise amount of tissue. A thin flap of corneal tissue is created first. Previously, the corneal flap during LASIK was originally made with a special blade, however, more advanced and safe technology creates a corneal flap using IntraLase, which is a special type of laser designed to further increase the patient's safety. 
Doctor Karp only performs "bladeless" or "all laser" LASIK by using IntraLase for corneal flap creation.
KOBY KARP NOW PERFORMS LASIK AT U OF L MEDICAL CENTER EAST.
Koby Karp Doctors Eye Institute is now offering our patients LASIK and Refractive Surgery at The Laser Eye Center at U of L Medical Center East, located at 3920 Dutchmans Lane, right around the corner from our offices.
This new Laser Eye Center features both an excimer and a femtosecond laser. These state-of-the-art lasers employ the latest technology in LASIK and PRK procedures to treat nearsightedness, farsightedness and astigmatism along with other disorders of the eye.
Our new partnership with U of L Health allows us to deliver to our patients the absolute best LASIK and Refractive surgery available today. It helps us maintain our promise of helping you see the best you can possibly see.
Call (502) 897-1604 today to set up a free LASIK consultation.
Your eyesight deteriorates with age. For most, their vision starts to go bad at 40 years old, but eyesight deterioration can start younger, based on your lifestyle.
When you start having vision problems, you will likely be prescribed corrective glasses or contact lenses. And while both of these are good solutions, they're often a hassle to maintain and cannot bring back your 20/20 vision.
LASIK eye surgery is the answer if you want a solution that provides long-lasting results. With this procedure, our LASIK eye surgeons reshape your cornea using laser technology, giving your eyes the necessary refraction that leads to vision correction.
WHAT TO EXPECT ON THE DAY OF LASIK
Successful LASIK eye surgery corrects your vision quickly and painlessly with long-lasting results. To prepare, here's what you can expect before, during, and after the surgery: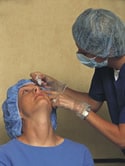 You will be required to stop using creams, lotions, makeup, and other products around the eye as they can increase the risk of infection.
You must arrange for transportation since the surgery will blur your vision.
LASIK eye surgery is quick, usually lasting less than 30 minutes.
You will recline on a chair and will be given a numbing drop in your eye.
Your eyelids will be held open by an instrument called a lid speculum.
Your eye surgeon will use a laser to remove microscopic layers of the cornea.
Immediately after surgery, your eyes might itch, burn, and water, which is why you will be given a shield to wear over your eyes to prevent you from accidentally scratching them.
Your vision will be initially blurry as your eyes recover.
The doctor will prescribe pain medication or eye drops to keep you comfortable post-surgery.
You will need to avoid using cosmetics around your eyes as they heal.
It will take weeks for your vision to stabilize and become clearer than before.
WHAT ARE THE POTENTIAL RISKS OF LASIK?
LASIK eye surgery, like other surgical procedures, presents some potential risks. This includes:
Lasik surgery causes a temporary decrease in tear production for up to 6 months post-operation.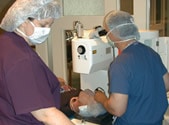 GLARE, HALOS, AND DOUBLE VISION
Some people report light sensitivity for up to a few weeks after surgery.
Mistakes in the evaluation may result in the removal of too much or too little tissue from your eyes, causing under or overcorrection.
Uneven tissue removal may result in astigmatism.
Though uncommon, some people report their vision slowly changing back to the original prescription before the surgery
Vision loss is another rare complication. Some people end up with vision less sharp and clear than their previous prescription.
Photorefractive keratectomy or PRK is a type of laser surgery similar to LASIK but does not require making a corneal flap. As such, it's a faster procedure, usually lasting 10 minutes for both eyes.
Apart from the speed, it might also be a safer or more comfortable option for you. Since it doesn't involve creating a flap, you won't have to worry about corneal flap-related complications.
Koby Karp Doctors Eye Institute offers LASIK and PRK procedures to our Louisville patients. Our eye surgeons will discuss the benefits of each procedure with you and help you determine which laser vision correction best fits your needs.
Patients with presbyopia, a condition that reduces an eye's near focusing ability, usually need reading glasses for clear vision. However, LASIK surgery may be used for monovision, where one eye is corrected for distant viewing while the other is corrected for nearsightedness.
This reduces your reliance on reading glasses or contact lenses. If you'd like to explore this option, our team can conduct an evaluation to help determine if it's right for you.
FREE CONSULTATION AND EVALUATION.
LOUISVILLE, KY LASIK - WITH KOBY KARP DOCTORS EYE INSTITUTE!
Call us for a FREE consultation appointment! If you've already read the information about LASIK on this website and want to know if you are a suitable candidate for LASIK, make an appointment for a free LASIK evaluation with Dr. Kar. It's free and you are under no obligation. Call (502) 897-1604 or (800) 777-4393.
THREE NO-INTEREST FINANCING PLANS FOR LASIK
LASIK and Laser Eye Surgery financing in Louisville is so easy thanks to Koby Karp Doctors Eye Institute now offering no-interest financing for 12 months, 18 months or 24 months on LASIK and other refractive procedures. You can also use your Flex Plan in combination with this financing offer to pay for your procedure.
Call our Financial Department representative at (502) 896-2064 for complete details.
LASIK SURGERY ENHANCEMENT GUARANTEE
At Koby Karp Doctors Eye Institute we want our patients to be completely confident that we will render the best possible corrective eye surgery available including the appropriate follow up. That's why we offer our Enhancement Guarantee. Our doctors or a member of our staff will be happy to give you complete details.
The reason I chose Koby Karp is because of my long term relationship with them. The internet ads did help educate me and increase my comfort level to go ahead with the surgery. And the coupon and Care Credit financing sealed the deal.
I am so happy I had LASIK and have recommended to at least 5 people to have it at Koby Karp. Very professional from start to finish. T.H.- Louisville
LASIK PROCEDURE EXPLAINED
Click here
to learn more about our no interest financing plans.