EYE CARE LOUISVILLE LOVES
Koby Karp doctors Eye Institute has meant outstanding eye care in Louisville for over 40 years. As the area's leading medical institution devoted exclusively to the diagnosis and management of eye conditions, the ophthalmologists of Doctors Eye Institute provide both comprehensive eye care and outpatient eye procedures including: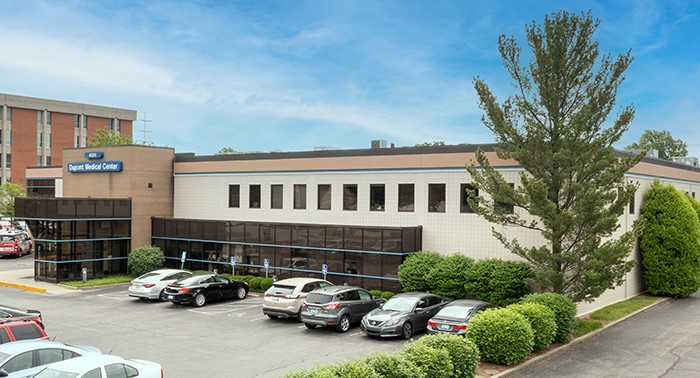 Comprehensive Eye Exams
Cataract Surgery
LASIK -Laser Vision Correction
Small Incision Cataract Surgery
Intraocular Lenses
Glaucoma Treatment
Diagnosis & Treatment of Eye Diseases
Optical Department
Contact Lens Dispensary
Koby Karp Doctors Eye Institute was founded by Doctors Melvyn Koby and David Karp. These two distinguished physicians have been widely recognized for their outstanding skills and expertise in the diagnosis and treatment of ocular diseases. Both doctors are certified by the American Board of Ophthalmology and are current Fellows of the American College of Surgeons. Dr. Karp specializes in refractive surgery such as LASIK and small-incision cataract surgery. January 2013, Dr. Koby retired after 42 years of active practice and is now an Associate Professor of Medicine at University of Louisville. He is active in the Department of Ophthalmology working with its eye residents.
Koby Karp Eye Care and Surgery Center was established in 1976 and the tradition of excellence has been carried on to the present day as Koby Karp Doctors Eye Institute. Dr. R. Scott Hoffman joined the team in 1998 following specialty training in corneal and external diseases. Dr. Hoffman specializes in cataract and intraocular lens implantation surgery, corneal diseases and corneal transplantation. He also evaluates and treats medical disorders of the retina, including diabetic retinopathy.
Our latest TV commercials will provide more insight about our Practice.
Most Americans have grown up knowing the importance of regular visits to the family doctor for routine check-ups to protect and maintain our physical well being. But when it comes to regular eye exams, many people think that if they don't have a problem, they don't need to see an "eye doctor". Even though most people may have good vision, the American Academy of Ophthalmology (AAO) recommends an eye disease screening at age 40, and that adults 65 years and older have an eye exam every one or two years.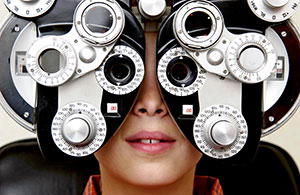 The only sure way to know if you have any eye disease such as glaucoma, macular degeneration or cataracts, is to have a complete eye examination. Some eye diseases have no noticeable symptoms until damage has already occurred. Early diagnosis and treatment are the keys to preventing loss of vision, particularly in glaucoma, where the pressure in the eye builds up and, if left untreated, damages the optic nerve. Your ophthalmologist can determine if you have any eye disease after performing a comprehensive evaluation, including dilation and perhaps other diagnostic tests.
Patients with a family history of any eye disease are strongly urged to see an eye doctor to discuss this and have a baseline exam with regular follow-up exams. Eye diseases that can be hereditary include glaucoma, macular degeneration, retinitis pigmentosis and diabetic retinopathy.
80% of outside stimuli is through the visual system – see what you've been missing. If it has been a while since you last saw your eye doctor, you should make an appointment today. Call (502) 897-1604 or (800) 777-4393
Fortunately, the state of Kentucky requires a comprehensive eye exam by an eye doctor before a child begins Kindergarten. These full exams provide the opportunity for the eye doctor to find a refractive error (glasses prescription) or an undetected eye muscle imbalance that can result in amblyopia that can easily be missed by a vision screening done at their pediatricians office or school. Children who may have a refractive problem will not always realize that their vision is blurred because this is the way they world has always been to them. Poor vision is often a factor in poor performance in the school setting. Once a child has been diagnosed with an eye condition, it is necessary for them to be seen on a yearly basis for re-evaluation since refractive errors change frequently as the child grows. Join our Kids Club and get a comprehensive eye exam designed specifically for children.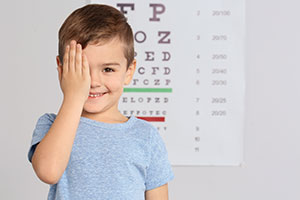 As a service to our patients, we are pleased to offer the CareCredit card, North America's leading patient payment program. CareCredit offers a full range of payment plans to meet every financing need. With the popular No Interest Payment Plans*, there are no interest charges if the balance is paid in full within the specified time period.
Or, if you prefer an even lower monthly payment and more time to pay, you can choose the low interest Extended Payment Plans* for procedure fees from $1,000 to over $25,000. Plus, there are no upfront costs, no annual fees, and no pre-payment penalties. It's easy to apply and you'll receive an online decision in seconds. Apply now or see our staff for more details.
CareCredit® 24-month, no-Interest LASIK Financing Plan. Right now and for a limited time only, we are offering this special financing plan to our LASIK patients. You pay no interest for 24 months if the total amount is paid in full within the term.
Please note that while this plan cannot be used with our online 20% discount coupon or our Corporate discount, we do offer a 15% discount on LASIK procedure to those using this special no-interest plan. Call or visit our financial office for complete details and for information about other special financing plans. To apply online, click the Care Credit button below.
Also offering 12 Month and 18 Month No-Interest Financing!
UNDERSTANDING INSURANCE COVERAGE
CLEARING UP WHAT YOU HAVE AND WHAT IT COVERS
Since our practice is medical in nature some of our services are covered by medical insurance and other services are covered by vision insurance.
Medical insurance coverage can only be used if the patient has a problem associated with a medical condition (cataract, dry eyes, diabetes, allergies, etc). Medical services such as cataract surgery, glaucoma treatments, and diabetic retinopathy treatments would come under medical insurance coverage.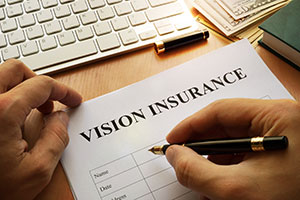 Vision plans cover routine eye exams and either a portion or, in some cases, all of the expense for corrective lenses and frames as well as contact lenses. Most vision insurances give a discount towards contact lens fitting fees.
Ultimately it is up to the patient to know what their insurance covers. The best way to find out exactly what coverage you have is to contact your insurance or plan provider. Since we understanding this process can be confusing, our financial department will also be happy to assist you in determining the coverage you have. Simply present the information from your member card at the time you check in.
To save time during your appointment, you can fill out these forms at home and then bring them with you.
Please note: These documents are in Adobe® PDF format. They require Adobe Reader to be viewed. If you do not have Adobe Reader, you can download it for free by clicking here.
Ample parking is available in the front and rear of the office building. Handicapped spaces are designated near the entrances. If you need special assistance, such as a wheelchair, you may send your companion to our office to advise us of your needs.
Upon arrival at the reception desk, our patient advocate will ask for your insurance card. Your insurance information will be copied for our files and returned to you. We expect all co-payments to be collected at the time of service, so please be prepared to make this payment at the time of your visit.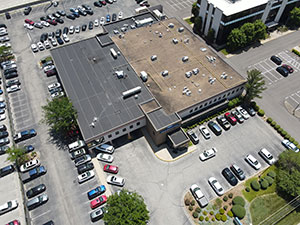 Doctors Optical is the optical shop located within our office. We offer the latest in fashion frames and lenses, making it easy for you to obtain your eyeglasses with a guarantee of quality and service. To learn more about our Optical Department click here.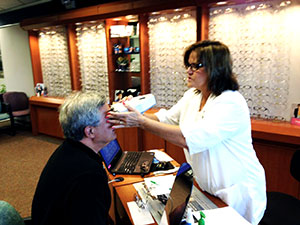 WHAT IS THE RIGHT TO SIGHT PROGRAM?
Koby Karp Doctors Eye Institute is the first ophthalmology practice in the region to develop a complete program that specifically focuses on the vision needs of senior citizens. We understand that seniors may have special needs concerning eye care. The Right to Sight program addresses all aspects of quality eye care including transportation, educational programs, and insurance processing. Right To Sight services are available both in our facility and in local area nursing homes, senior care facilities, and independent living facilities. At Doctors Eye Institute we offer complete eye examinations, treatment of all eye diseases, and outpatient eye surgery, including cataract surgery with lens implantation.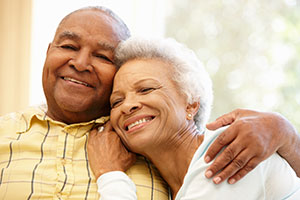 We extend our vision care services to nursing homes and senior care facilities, providing Eye Care Clinics that include vision evaluations, glaucoma screenings, yearly diabetic eye exams, dry eye evaluation, cataract screening, and even minor eye glass repairs. We also provide written medication prescriptions as needed and fill out Medicare and/or private insurance forms. We are always happy to schedule service programs at the facility to talk about eye care related topics.
AS A RIGHT TO SIGHT MEMBER, YOU ARE ENTITLED TO:
Medicare assignment
Free processing on all insurances
Emergency treatment
We partner with a third party ad network to either display advertising on our Web site or to manage our advertising on other sites. Our ad network partner uses cookies and Web beacons to collect non-personally identifiable information about your activities on this and other Web sites to provide you targeted advertising based upon your interests. If you wish to not have this information used for the purpose of serving you targeted ads, you may opt-out by clicking
here
( Please note this does not opt you out of being served advertising. You will continue to receive generic ads.